director: dr. Elvira Reale
ITALIAN NATIONAL RESE

ARCH COUNCIL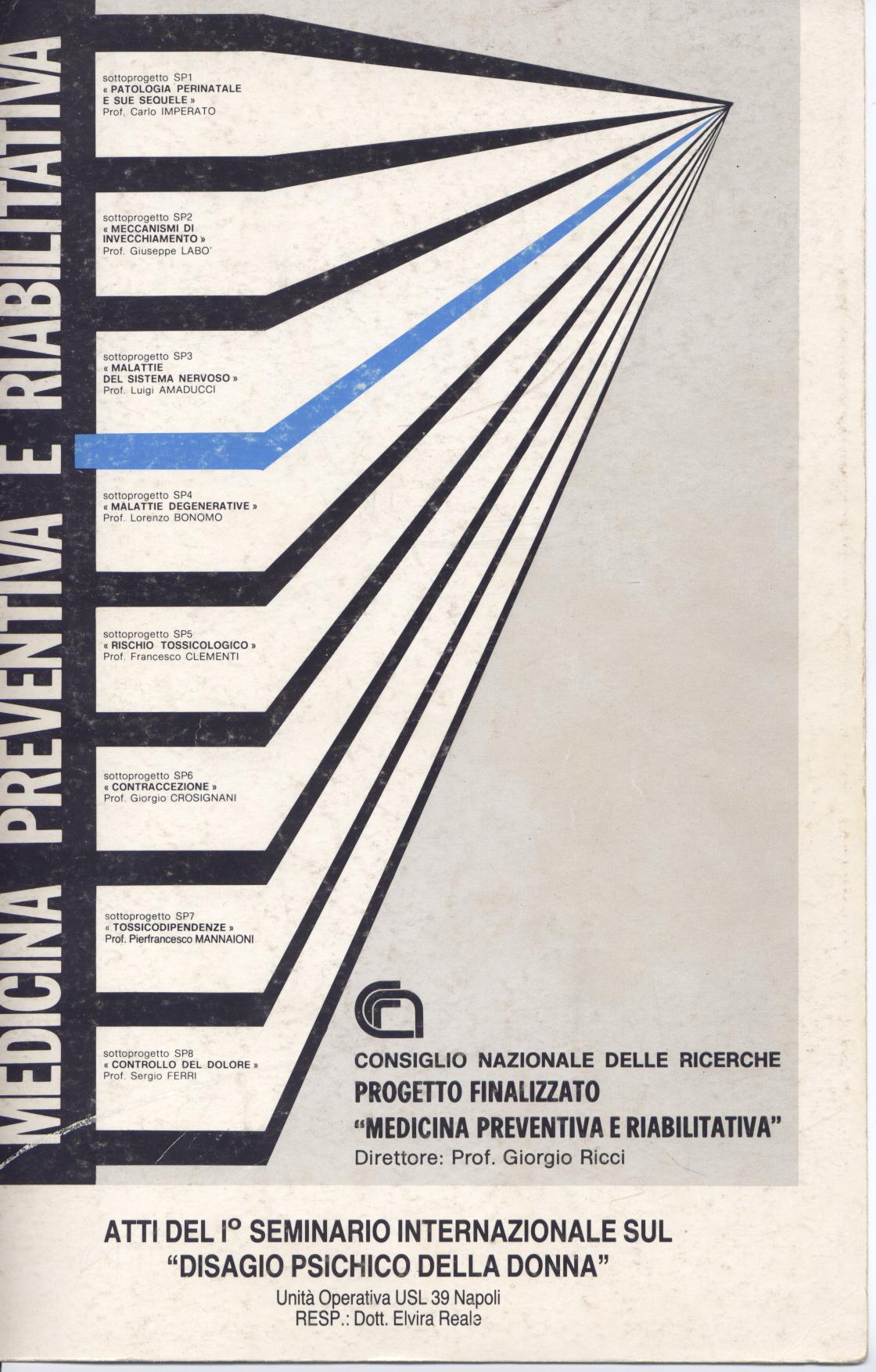 ---
PROCEEDINGS OF THE FIRST INTERNATIONAL SEMINAR
ON WOMEN MENTAL HEALTH
OPERATIVE UNIT NAPLES
Director.: Dr. Elvira Reale
Rome, 1-3 June 1988
Clinical Work and Research of the Women Mental Health Centre: Background
---
ELVIRA REALE, VITTORIA SARDELLI
Clinical Work and Research of the Women Mental Health Service: Background.
GIORGIO RICCI (Direttore Progetto Finalizzato CNR)
Apertura dei la voci.
TINA AGUILI (Consulta Femminile Regionale del Lazio)
Saluto alle partecipantí.
ELVIRA REALE (Unità Operativa CNR)
Introd
uzione al Seminario.
SEBASTIANO BAGNARA (Università di Siena e Istituto di Psicologia CNR)
MARIANNE KASTRUP (WHO-OMS, Copenhagen)
Mental Health of Women an Overview of the European and Extraeuropean Situations.
GHITA EL KAYAT (Psichiatra, Casablanca)
Condition feminine dans les pays arabes et psychopathologie.
RENATO FRISANCO, Michelina LUNETTA (Centro Ricerche LABOS, Roma)
La salute mentale della donna: la situazione in Italia.
PATRIZIA ROMITO (Istituto per l'Infanzia, Trieste)
Donne e depressione: la medicalizzazione della sofferenza.
CLAUDIA CAPPELLETTI (USL 1, Piacenza)
Metodologie ed approcci di ricerca al disagio feminile.
LEDIA MENAPACE (Consigliere Regionale del Lazio)
Metodologia della differenza sessuale.
CUSTODIA MANDLHATE (OMS, Ginevra)
La f emme au Mozanibique.
SHEENA DUNBAR (National Association for Mental Health, London)
The Lack of Recognition and Response to Wornens Mental Health.
SHEIILAG HODGINS (Centre de Recherche Institut PhWppe Pinel, Montréal)
Aggressive Behaviour and Mental Disorder in Women.
JULIA BRANNEN (Thomas Coram Research Unit, Institute of Education, University of London)
Social Support and the Return to Work after Matenity Leave.
PAOLA CAVALLERO, FIORELLA MONTI (Dipartimento di Psicologia, Università di Bologna)
Disagio e cambiamento corporeo in gravidanza.
GIGLIOLA LO CASCIO, MADDALENA MARINO (Dipartimento di Psicologia, Cattedra di Psicologia Sociale, Università di Palermo)
La Frammentazione femminile dal mondo esterno al mondo interno.
PAOLA D'ATENA (Dipartimento dei Processi di Sviluppo e Socializzazione, Università "La Sapienza" Roma)
Ruoli sessuali e malattia mentale
BRIGITTE FROSIO (Centre Hospitalier Maillot, Secteur Psychiatrique Adulte, Briey)
histeriques des villes, histeriques des charnps, ou le droit à la difference
M. CRISTINA RAVA.ZZOLA (Sociedad Argentina de Terapia Farniliar, Buenos Aires)

Principales estereotipos acerca de los roles prescriptos para varones y mujeres

en nuestra cultura
EMILCE D. BLEICHMAR (Woman Institute, Culture Department, Madrid)
The Spontaneous Feminism of Hysteria.
MARIA HUERTAS, PILAR AUSINA, ISABEL MARTINEZ, ROSA PASTOR, PAU PERIS (Hospital Psiquiátrico de Bétera, Valencia)
Mujeres en e] manicomio: etudio compar tivo del internamíento psiquiatrico de la mujer en dos épocas diferentes de la recenti Histora Espanola.
CARMEN SAEZ BUENAVENTURA (Hospital Provincial G. Maranon, Madrid)
Grupos de orientación feminista para amas de casa con depresión.
TRINE ANSTORP, KIRSTEN BENUM, ANNE-KARI CLASEN (Forum of Women's Therapy, Ulleval Hospital, NAVF, Oslo)
Acceptance as a potential for change.
BRIGITTE HALLER (Frauentherapiezentrum, Munich)
Illmess as a Necessary Reaction of Wornen to the Circumstances in which they live.
MARY MAGUIRE (The Women's Therapy Centre, London)
The Different Issues Wornen and Men bring to Psychotherapy.
VITTORLA SARDELLI (CNR, Unità Operativa USL 39 Napoli - Servizio Donne di Salute Mentale)
MICHELLE BOURGON (Départment de Travail Social, Université du Québec, Montréal)
The Institutionalization of Feminist intervention in Québec.
BIANCA IACCARINO (Dipartimento di Psicologia, Università "La Sapienza", Roma)
La consultazione breve nella crisi adolescenziale femminile: prevenzione del disagio e costruzione della soggettività femminile.
M. ASUNCIÓN GONZALEZ DE CHAVEZ, M. CARMEN GONZALEZ NOGUERA, LUCTA VALDUEZA
(Hospital Insular, Las Palinas de Gran Canaria)
Grupos terapéuticos de mujeres.
HEATHER HUNT (Redbridge District Psychology Department, Ilford, Essex)
.An Evaluation of 9 Week Assertiveness and Self Confidence Course for Women.
ORETTA BERTARINI, BARBARA BRANCA, NIARA MONTI (Servizio Salute Mentale, USL 25 S. Giorgio di Piano, Bologna)

Una esperienza di intervento sul disagio psichico femminile nel Servizio

di salute mentale della USL 25.
LICIA GOVONI, CARLA MASSA, MAURA SCHIAVINA, GIOVANNA STAGNI (Servizio Salute Mentale USL 28, Bologna)

Strategie relazionali in un contesto psichiatrico pubblico:

una definizione del disagio femminile.
EVA AXELSEN (Department of Psychology, University of Oslo)
The Strenght of Weakness.
ANA MARFA DASKAL (Belgrano Universidad, Buenos Aires)
Enfermedad nuestra de cada dia.
CATERINA ARCIIDIACONO (Consultorio Familiare, USL 46 Napoli)
Donne e depressione: un contributo perla discussione.
LESLEY DOYAL (Departrnent of Nursing Health and Applied Social Studies, Bristol Polytechnic)
Promoting Womens Health: Methodological Problems in Explaning Womens Health and Illness
VICTORIA SAU SANCHEZ, JUANA COLOM BAUZA (Facultad de Psicologia, Universidad de Barcelona)
Nueva vision de salud mental y malos tratos en la mujer.
JENNY POPAY (Thomas Coram Research Unit, Institute of Education, University of London)
Women's Experience of Health and Illness and their Social Roles.
PAOLA LEONARDI (Unità di Ricerca sulla Depressione Femminile, UUSSLL 1-2-3 Piacenza) Dalla differenza sessuale nel disagio psichico a una ricerca sulla depressione femminile e mutamento sociale.
REBECCA FURHER (Institut National de la Santé et de la Recherche Médicale - INSERM - Paris)
Projet de recherche: santé mentale, trovai] et vie familiale. Une approche épidemiologique.
ELVIRA REALE (CNR, Unità Operativa USL 39 Napoli - Servizio Donne di Salute Mentale)
RITA C. FICHERA (Department of Social Policy and Social Science, Royal 1-Holloway and Bedford New College, University of London)
Social Factors in the Aetíology of Depression.
EMILIA COSTA, DIANA VIOLA, DANIELA DI SPIGNO, ANNA MARIA DI LORENZO,
SANDRA FERSURELLA, MARIA CAREDDA, FABIOLA GIANNACCHINI, MICHELE DI NUNZIO (VI Clinica Psichiatrica, Università "La Sapienza", Roma)
Modalità di Depressione nella donna.
MARCELLA DE NICHILO (Cattedra di Psicologia Sociale, Università "La Sapienza", Roma) La vita abiurata: studio sulla rinuncia femminile attraverso la scultura dei miti e dei riti familiari.
M. ASUNCIÓN GONZALES DE CHAVEZ (Facultad de Medicina, Universidad

de la Laguna, Las Palmas de Gran Canaria)

Reflexiones en torno a los resultados de una investigación sobre mujer y salud mental.
MARIA LUZ RUBI CIID (Centro de Planificación Familiar, Madrid)
La función psicoterapéutica en un Centro de Planificación.Faniliar.
GABRIELLA BADOLATO, PISANA COLLODI (Dipartimento di Psicologia, Università di Roma)
Tappe della vita femminile sovrainvestite da prescrizioni di ruolo e perciò 'a rischio': il periodo dopo il parto e la menopausa.
KATHARINA SCHWEIZER, EUGENIA OMODEI ZORINI (CGIL-CISL-UIL, Milano)
L'influenza del doppio ruolo sulla salute mentale.
MAURMO CAREDDA, ANTONIO PITONI (CNR, Unità Operativa USL 39 Napoli

Servizio di Salute Mentale)

Analisi delle prime utenze maschili negli anni 1986-87.
CRISTEL STEINKE (Medusa - Association to Free Girls and Women from Sexual Violence, Cologne)
The Taboo of Sexual Abus of Girls.
CLAUDIO FINICELLI, GERMANA CATTINI (Distretto Socio-Sanitario di Rho e Cornaredo, Milano)
L'individuazione di rischio sociale e psicologico nelle richieste di IVG.
ADELE NUNZIANTE CESARO (Cattedra di Psicologia Differenziale, Università di Napoli)
La donna e la menopausa: alcune riflessioni psicodinamiche su un particolare aspetto di 'crisi' dell'identità femminile.
VITTORIA SARDELLI, FELICIA FORMISANO, MARIA LUISA PEPE, SILVANA VENTURA (CN'R, Unità Operativa USL 39 Napoli - Servizio Donne di Salute Mentale)
Il processo di costruzione del sintomo.
STEFANIA AGUZZI, ANNA PAOLA BIAGIONI, ANTONELLA DE CESARE, RITA ROCCA, ERMELINDA SIMONETTI (Unità Operativa di Psichiatria e Psicologia USL 4, Garfagnana)
Viaggio nel reparto femminile dell'ospedale psichiatrico di Maggiano - Lucca.
GABRIELA CHARNES (Psicologa, Santiago)
Partecipation of Chilean Women in Mental Health Programmes: Three Experiments.
PATRIZIA OREFICE (CNR, Unità Operativa USL 39 Napoli - Servizio Donne di Salute Mentale) L'organizzazione del lavoro di raccolta dati in un Servizio di salute mentale perle donne.
BICE CAFIIERO, GA.BRIELA CHARNES, PAOLA CRISTOFORO, ORIETTA OTTAVIANI, ANNA PARRONE, LIIDIA PETROLINI, ANNA PITTAU, LAURA SABA, BARBARA SERRA, NINA THOM.AS, MOLLY WRIGHT (Consultorio USL RM 9, Roma)
Magliana: il tempo al Consultorio.
PATRIZIA OREFICE, ELVIRA REALE, FELICIA FORMISANO, MARINA MAUGERI, MARIA LUISA PEPE, SILVANA VENTURA (CNR, Unità Operativa USL 39, Napoli - Servizio Donne di Salute Mentale)
Analisi dei dati del Servizio Donne negli anni 1981-85.
SANDRA CONTE (Servizio Salute Mentale USL 1 1, Pordenone)
L'inserimento lavorativo come momento terapeutico perle donne. Limiti dell'approccio medico e psicologico alla salute mentale.
GRUPPO "ZENE 1 DRUSTVO", (Belgrado)
Dov'è la fonte di forza delle donne: la eterosessualità obbligatoria e la salute mentale delle donne.
ANNE DELEPINE, MARISA GIANCANE, ROSE LENTINI
(Le collectif pour femmes battues, Liége)
Les vialences faites aux femmes et la santé mentale.
NICOLETTA CROCELLA (Associazione Culturale Università delle Donne Simone de Beauvoir, Brescia)
Madri e Figlie